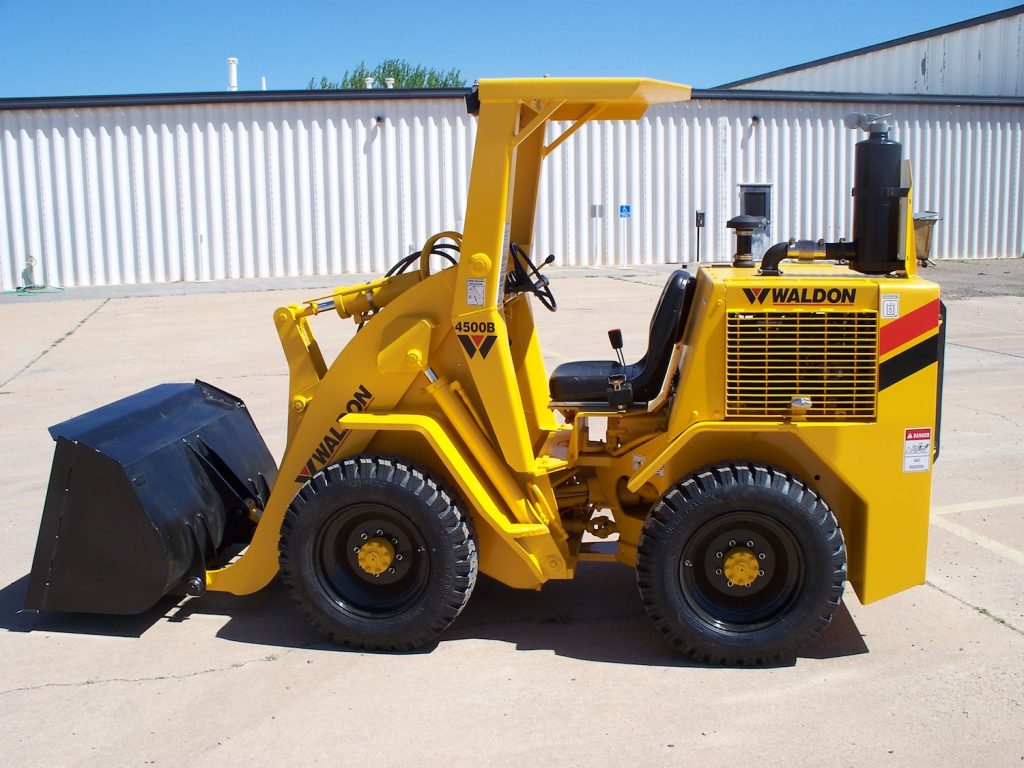 A compact loader with lots of power.
Compact loader standing at 80.1 inches tall, just over 6.6 feet.
Hydraulic drive system, 2-speed mechanical transmission
60 HP Gas or Diesel engine
79 in. Turning Radius
0.5 Yard Bucket
Excellent in low clearance, confined turning applications
This sub-compact, half-yard loader has super agile, 45 degree articulated steering and 22 degree rear axle oscillation that allows it do tough jobs in tight places without tire or floor damage caused by skid-steer loaders. This ultra-low clearance machine is ideal for jobs with close quarters – mining, materials handling applications in abusive environments and even fertilizer plants. Despite it's minimalist design the 4500B is built just as rugged as the rest of its big brothers so it can handle harsh conditions and abusive environments like a champ.
Standard Equipment
8 x 16.5 Pneumatic Tires
Power Steering
ROPS / FOPS Guard
Plastic Molded, Steel Base Adjustable Seat
107 dBA Reverse Alarm
10 Micron Hydraulic Filtration
SAE J386 Seat Belt
Hour Meter
625 amp 12V Battery
Horn, Single Note
Headlights
Antifreeze to -40° F (-40° C)
Gauges: Engine temperature, hydraulic oil temperature, fuel level, ammeter, oil pressure
Dual element air filter with pre-cleaner
Emergency brake, manual set
Lockable engine compartment doors
Keyed switch and starter
Industrial yellow enamel paint
4-wheel drive line hydraulic disc brakes
4-wheel drive 2-speed hydraulic drivetrain
Boom assembly kit with boom arms, lift and bucket tilt cylinders, mounting pins and hoses
14.8 ft. ³ bucket
3rd valve
Optional Equipment
Fire resistant fuel cap
Pre-heater starting aid
7.00 x 15 solid tire and wheel kit
7.50 x 15 solid super soft tire and wheel kit
7.00 x 15 pneumatic tire and wheel kit
7.00 x 12 solid tire and wheel kit
7.00 x 12 pneumatic tire and wheel kit
LPG conversion kit
Lifting hooks
Auxiliary Hydraulic kit
Attachments
Mechanical Snap-Attach® quick release attachment coupling system
Unicoupler® quick-attach / release hydraulic attachment coupling system
Boom forklift
Model 700 sweeper
Yardbird pick-up sweeper
Scrap grab
Fertilizer bucket
Mining bucket
Mining bucket, pointed
Grapple Bucket
Have another need? Contact us for other application options.
Environment / Typical Application
Our equipment can be used in a variety of industries and applications. We highly recommend this loader for the following areas:
Mining
Materials handling in abusive environments
Fertilizer plants
Agriculture
Need a Waldon piece of equipment for your next big job?
Want to carry Waldon Equipment in your rental facility?