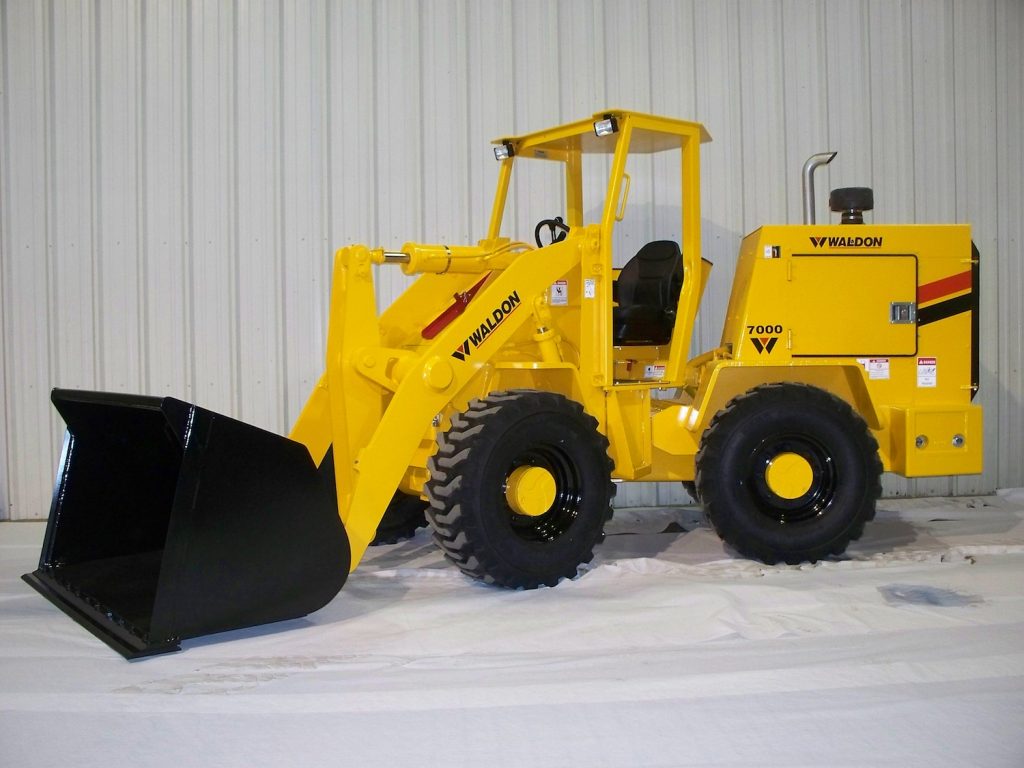 Powerful, multi-purpose use.
1.25 yard bucket
3,510 lbs SAE operating capacity
91 in. clearance height, just over 7.5 feet.
3 Speed hydrastatic transmission
9,000 lbs SAE breakout force
85 HP diesel Cummins engine
Designed for heavy construction, mining and materials handling applications with abusive environments.
With a dump clearance of 105 in. and a breakout force of 9,000 lbs. the 7000 is the second largest machine in the Waldon line. Despite its powerful capabilities and extended wheel base the 7000 is still just over 5 ft wide enabling it to do big things in small spaces. Added features include a three-speed automatic transmission with manual override, extended wheel base, extra heavy duty frame, and larger operator compartment with suspension seat.
Standard Equipment
Three speed ranges
Automatic shift with manual override
14 x 17.5 Pneumatic Tires 10-ply
Power Assist Steering
ROPS / FOPS Guard
1 in. steel fenders
3rd valve
Fully adjustable suspension seat with arm restsw
Halogen head and rear working lights
Joystick control
107 DBA reverse alarm
7 Micron hydraulic filtration
SAE J386 retractable seat belt
Hour meter
Single 850 amp battery
Horn, single note
Antifreeze to -40° F (-40° C)
Gauges: Engine temperature, hydraulic oil temperature, fuel level, ammeter, oil pressure
Dual element air filter with pre-cleaner
Emergency brake, electronically set
1196 lb. (542.5 kg) counterweights
Safety platform
Keyed switch
Industrial yellow enamel paint
Swing-out locking rear grill
Swing-out oil cooler
Internal oil immersed disc brakes
Heavy-duty boom assemply
4-wheel drive hydrostatic drivetrain
1.25 yd. ³ bucket
Locking engine, battery, and tool compartment doors
Optional Equipment
Pressurized and/or air conditioned cab with defroster and wipers
Cab heater
Windshield
Hazardous atmosphere alternator
Solid tires
Unicoupler
Attachments
Drive line protection kit
Cold start aid kit
Fire resistant fuel cap
Water glycol/super charged hydrostatic system
PTX exhaust purifier with spark arrester muffler
4th valve section add-on
Power beyond hydraulic kit
Severe duty boom
Severe duty center pivot
Environment / Typical Application
Our equipment can be used in a variety of industries and applications. We highly recommend this loader for the following areas:
Commercial / Industrial construction
Heavy construction
Landscaping
Sand and gravel operation
Rock quarry
Concrete contractor
Recycling
Agriculture
Mining
Masonry
Glass manufacturing
Scrap handling
Food processing
Need a Waldon piece of equipment for your next big job?
Want to carry Waldon Equipment in your rental facility?