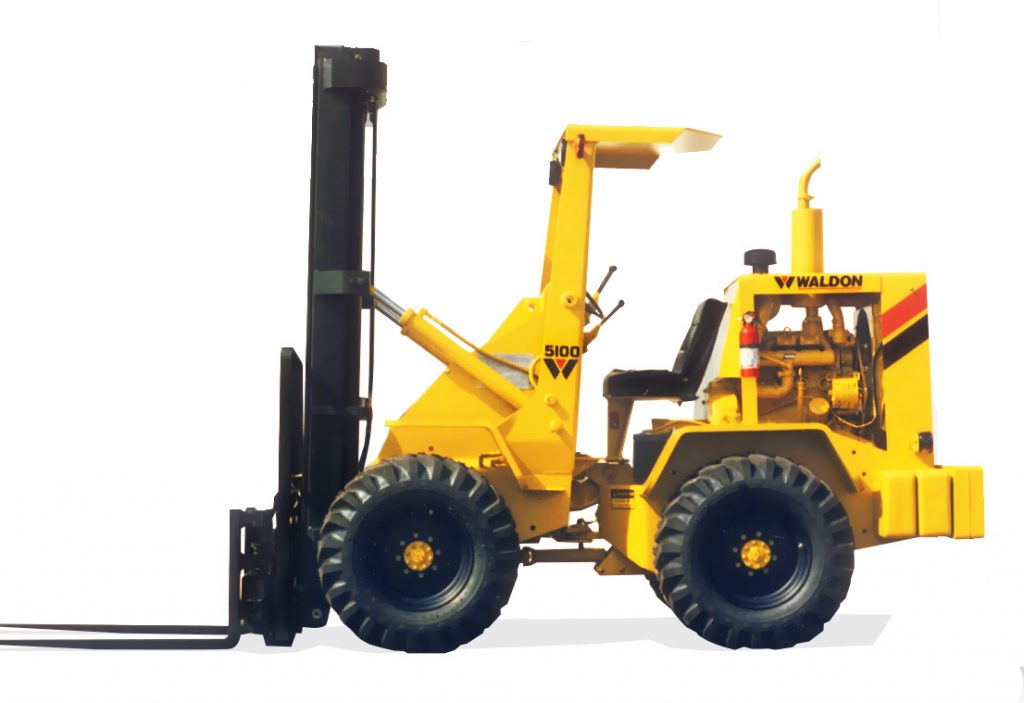 4,000 lb. capacity mast forklift
4-wheel drive
Compact standing at 87.25 inches tall, just over 7 feet.
High drawbar power
Much like the 5100 loader, this 4-wheel drive forklift model provides excellent uptime in tough-duty applications. This compact forklift has extremely high gradability and traction with high drawbar power. A great option for 4000 lb. payload applications that may include ramps and rough terrain. Versatile for inside and outside use.
With a variety of attachments, this multi-use lift truck is great for many jobs.
Standard Equipment
12 x 16.5 pneumatic tires
Power assist steering
ROPS / FOPS guard
Plastic molded, steel base adjustable seat
107 dBA reverse alarm
10 micron dual hydraulic filtration
SAE J386 seat belt
Hour meter
2 400 amp 12V batteries
Horn, single note
Antifreeze to -40° F (-40° C)
Auxiliary hydraulic kit
Gauges: engine temperature, hydraulic oil temperature, fuel level, ammeter, oil pressure, hydraulic filter service indicator light
Dual element air filter with pre-cleaner
Emergency brake, manual set
Keyed switch and starter
Industrial yellow enamel paint
4-wheel hydraulic disc brakes
4-wheel drive hydrostatic drivetrain
Optional Equipment
Pressurized and/or air conditioned cab with defroster and wipers
Other mast sizes are available
7.50 x 16 solid tires and wheels
Headlights
Attachments
Rail coupler
Pipe clamp-down
Load retainers
Side shifter
Rotating roll clamps
Rotating fork clamps
Dumper / upender
Drop bottom box dumper
2-or-1 pallet handler
Rotary snow blower
Hydraulic die handler
Hydraulic scoops
Telescopic boom
Hydraulic plows
Model 700 sweeper
Have another need? Contact us for other application options.
Environment / Typical Application
Our equipment can be used in a variety of industries and applications. We highly recommend this loader for the following areas:
Rough terrain
Indoor and outdoor with ramps
Mining
Foundaries
Fertilizer plants
Agriculture
Scrap yards
Need a Waldon piece of equipment for your next big job?
Want to carry Waldon Equipment in your rental facility?