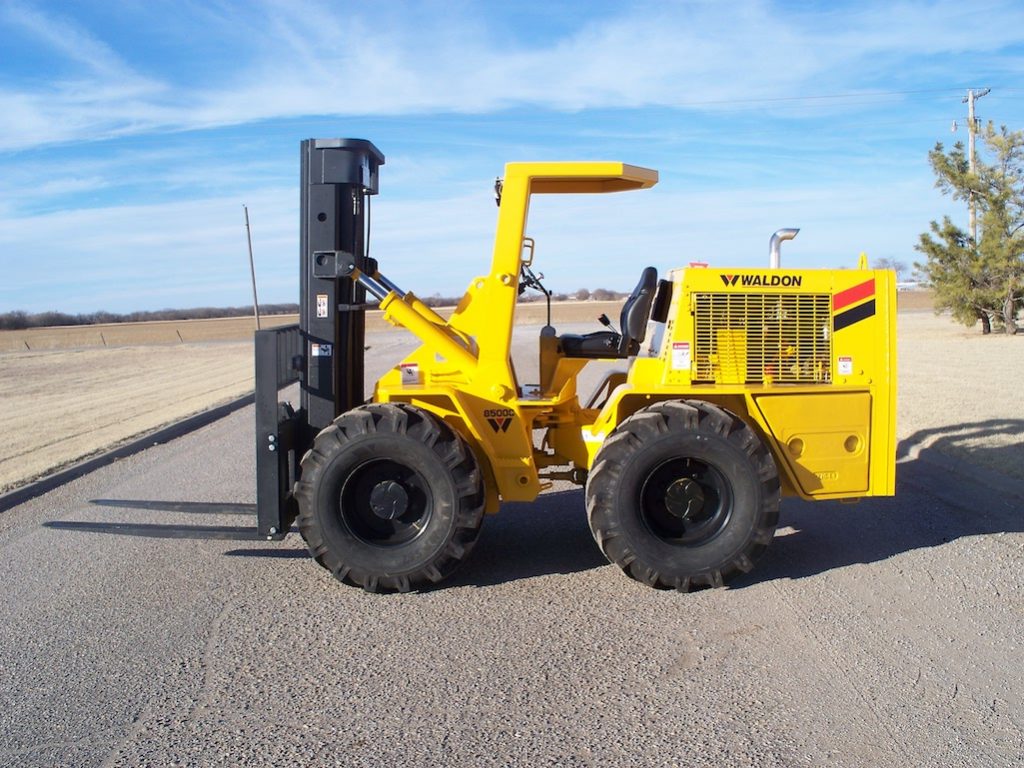 The most compact and powerful.
12,000 lb. Capacity
Masts up to 15 ft. are available
95.4 in. clearance height, just under 8 feet.
Our 8500C forklift can be used for moving aluminum billets, huge coils of wire, scrap containers or heavy pallets up 34% grades – any heavy duty job you have. It can even operate in standing water while still having full braking capacity.
Standard Equipment
18 x 19.5 pneumatic tires
Power assist steering
ROPS / FOPS Guard
Plastic molded, steel based adjustable seat
107 DBA reverse alarm
10 Micron dual hydraulic filtration
SAE J386 seat belt
Hour meter
Two 400 amp 12V batteries
Auxiliary hydraulic kit
Horn, single note
Antifreeze to -40° F (-40° C)
Gauges: Engine temperature, hydraulic oil temperature, fuel level, ammeter, oil pressure, hydraulic filter service indicator light
Dual element air filter with pre-cleaner
Emergency brake, manual set
Keyed switch starter
Industrial yellow enamel paint
4-wheel hydraulic disc brakes
4-wheel drive hydrostatic drivetrain
Optional Equipment
Pressurized and/or air conditioned cab with defroster and wipers
Other size masts are available
10 x 20 x 8.0 solid tires & wheels
Headlights
Attachments
Rail coupler
Pipe clamp-down
Load retainers
Side shifter
Rotating fork clamps
2-or-1 pallet handler
Rotary snow blower
Hydraulic plows
Model 700 sweeper
Environment / Typical Application
Our equipment can be used in a variety of industries and applications. We highly recommend this forklift for the following areas:
General construction
Metal products refining
Glass manufacturing
Nursery products
Forest products
Recycling
Scrap handling
Concrete
Paper products
Steel pipe
Carbon
Meat and poultry products
Aluminum
Fertilizer plants
Need a Waldon piece of equipment for your next big job?
Want to carry Waldon Equipment in your rental facility?