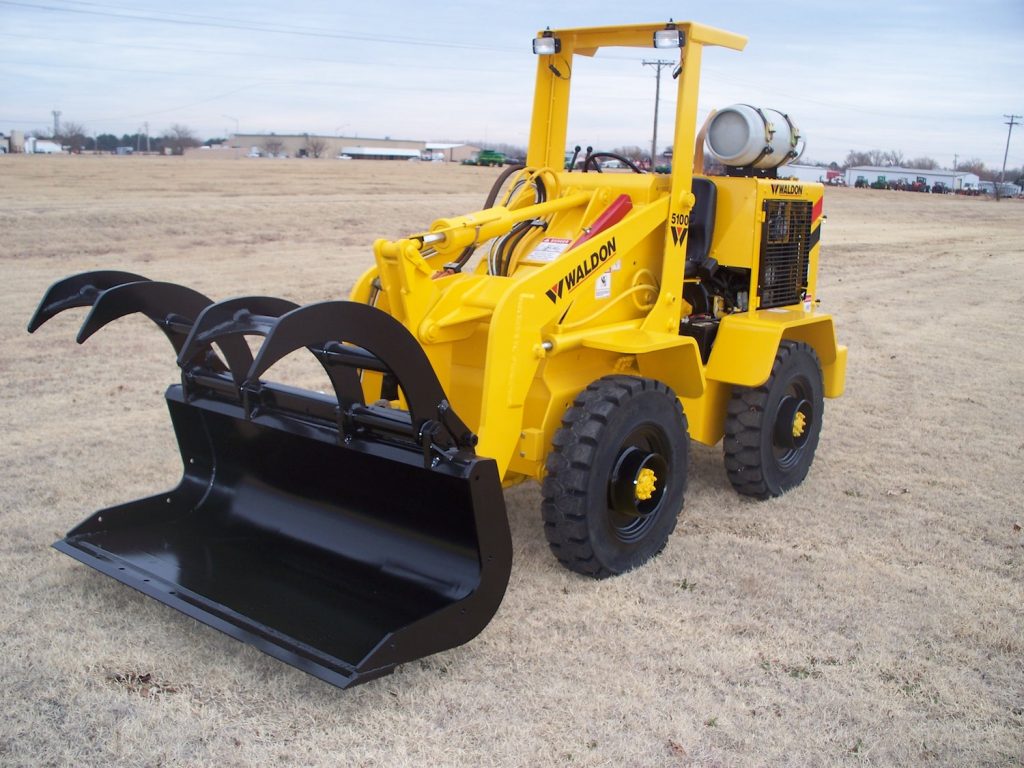 5/8 Yard Bucket
Compact loader standing at 86.25 inches tall, just over 7 feet.
86.25 in. clearance height
5,000 lb SAE breakout force
Hydraulic drive system, 2-speed mechanical transmission
Optional clean exhaust, efficient propane engine, makes it perfect for indoor applications
This loader offers the same quality and durability as our 4500B but we've added some more options for those bigger projects. This loader offers a popular 5/8 yard bucket capacity coupled with a powerful breakout force of 5,000 lbs designed for plant maintenance, heavy material handling, and a variety of heavy industrial (such as mining and foundries) and construction applications. In addition, its optional clean exhaust, efficient propane engine, makes it perfect for indoor applications.  Its versatility and relatively low cost have made it a popular and widely used loader across many industries.
Standard Equipment
10 x 16.5 Pneumatic Tires
Power Assist Steering
ROPS / FOPS Guard
Plastic Molded, Steel Base Adjustable Seat
107 dBA Reverse Alarm
10 Micron Hydraulic Filtration
SAE J386 Seat Belt
Hour Meter
625 amp 12V Battery
Horn, Single Note
Antifreeze to -40° F (-40° C)
Gauges: Engine temperature, hydraulic oil temperature, fuel level, ammeter, oil pressure
Dual element air filter with pre-cleaner
Emergency brake, manual set
370 lb. (167.8 kg) Counterweights
Keyed switch and starter
Industrial yellow enamel paint
4-wheel hydraulic drum breaks
4-wheel drive 2-speed hydraulic drivetrain
Boom assembly kit with boom arms, lift and bucket tilt cylinders, mounting pins and hoses
16.7 ft. ³ bucket
3rd valve
Optional Equipment
Pressurized and/or Air Conditioned Cab with Defroster and Wipers
Fire resistant fuel cap
Pre-heater starting aid
Lifting hooks
Driveline protection kit
7.50 x 15 pneumatic tire and wheel kit
31 x 15.50-15 high flotation tractor head tire and wheel kit
7.50 x 16 solid super soft tire and wheel kit
Hazardous atmosphere alternator kit
LPG conversi0on kit
4th section valve kit
Light material bucket
7.00 x 15 Pneumatic tire and wheel kit
7.50 x 16 solid tire and wheel kit
Foundry bucket
Mining bucket
Auxiliary Hydraulic kit
Attachments
Mechanical Snap-Attach® quick release attachment coupling system
Unicoupler® quick-attach / release hydraulic attachment coupling system
Boom forklift
Model 700 sweeper
Scrap grab
Fertilizer bucket
Grapple bucket
Hydraulic hammer
Snow blower
Snow plow
Railcar coupler
Dumper / Upender
Grip-O-Drum barrel handler
Have another need? Contact us for other application options.
Environment / Typical Application
Our equipment can be used in a variety of industries and applications. We highly recommend this loader for the following areas:
Mining
Foundries
Fertilizer plants
Agriculture
Scrap yards
Glass plants
Aluminum smelters
Paper manufacturing
Feed mills
Need a Waldon piece of equipment for your next big job?
Want to carry Waldon Equipment in your rental facility?