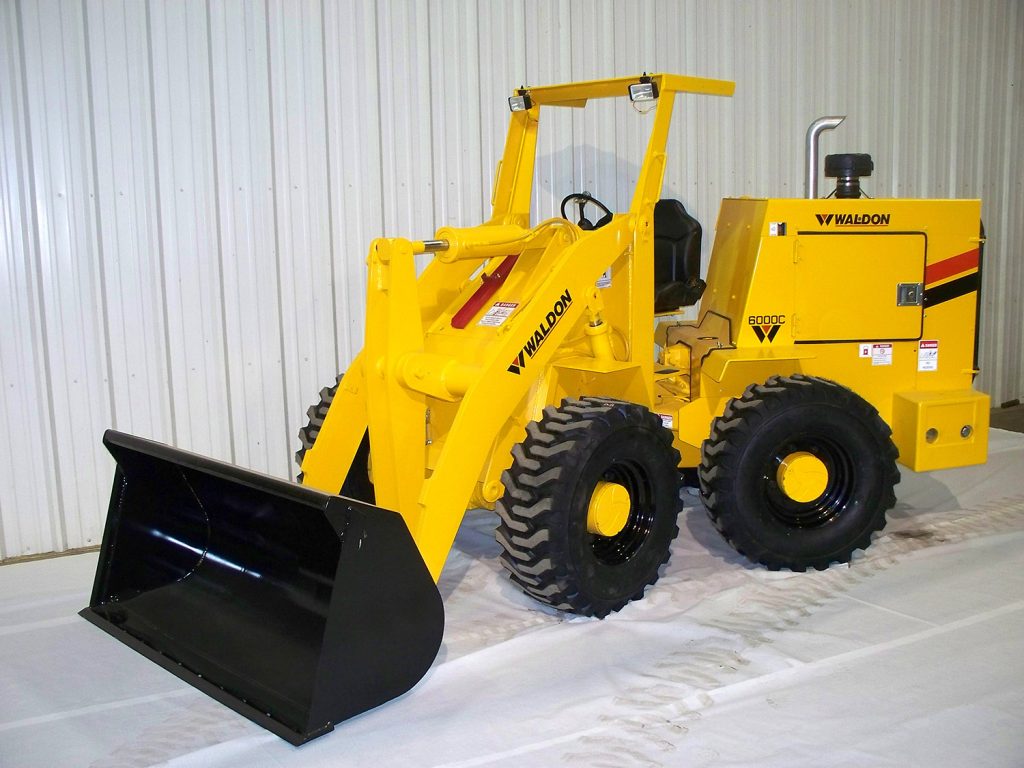 Compact and powerful – a versatile beast!
1 yard bucket
2,700 lbs SAE Operating Capacity
90.5 in. clearance height, just over 7.5 feet.
Automotive type hydrostatic control
10,450 lbs SAE breakout force
80 HP Diesel Cummins engine
Excellent for heavy construction, mining and materials handling applications with abusive environments
At a standing height of only 7 ft. 6 1/2 in. tall the one yard capacity 6000C is designed to provide a totally integrated tractor/attachment unit for a variety of specialized uses. The machine has hydrostatic four-wheel drive and planetary outboard hubs for a superior power and capacity-to-size ratio.If your application calls for moving large loads quickly, smoothly and efficiently, and in restricted quarters, the Waldon 6000C is without a doubt an excellent choice.
Standard Equipment
14 x 17.5 Pneumatic Tires 10-ply
Power Steering
ROPS / FOPS Guard
Safety platform
3rd valve
Adjustable suspension seat
Headlights and rear working lights
Joystick control
107 DBA reverse alarm
7 Micron hydraulic filtration
SAE J386 Seat Belt
Hour Meter
1-850 CCA 12V Battery
Horn, Single Note
Antifreeze to -40° F (-40° C)
Gauges: Engine temperature, hydraulic oil temperature, fuel level, ammeter, oil pressure
Dual element air filter with pre-cleaner
Emergency brake, spring applied, hydraulic release
1196 lb. (542.5 kg) counterweights
Keyed switch
Industrial yellow enamel paint
Internal wet disc brakes
4-wheel drive hydrostatic drivetrain
Boom assembly kit, lift and bucket tilt cylinders, mounting pins and hoses
1.0 yd. ³ bucket
Lockable engine compartment doors
Optional Equipment
Pressurized and/or air conditioned cab with defroster and wipers
Cab heater
Windshield
Hazardous atmosphere alternator
Solid tires
Unicoupler
Attachments
Deutz diesel engine
Drive line protection kit
Fire resistant fuel cap
PTX exhaust purifier with spark arrester muffler
4th valve section add-on
Power beyond hydraulic kit
Block heater
Mainfold heater
Attachments
Mechanical Snap-Attach® quick release attachment coupling system
Unicoupler® quick-attach / release hydraulic attachment coupling system
Boom forklift
Model 700 sweeper
Yardbird pick-up sweeper
Scrap grab
Fertilizer bucket
Mining bucket
Mining bucket, pointed
Grapple Bucket
Have another need? Contact us for other application options.
Environment / Typical Application
Our equipment can be used in a variety of industries and applications. We highly recommend this loader for the following areas:
Recycling
Scrap handling
Fertilizer plants
Lumber mill
Paper mill
Aluminum processing
Glass plant
Landscape supply
Agriculture
Food processing
Mining
Foundry
Need a Waldon piece of equipment for your next big job?
Want to carry Waldon Equipment in your rental facility?