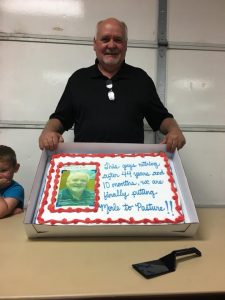 In 1972, a 19 year-old Merle Patzkowsky started work at Waldon mounting tires on loaders and expediting shipping. He moved up in the ranks from parts room manager to sales and general management and even managing partner for Waldon. After 44 years with the company, he will be retiring today, November 1, 2017.
I sat down with Merle to talk about his history with the company.
Q: When did you start at Waldon?
M: I was 19 years old and started work December 28, 1972.
Q: What were you hired to do?
M: I started out mounting tires and working in shipping. After a year doing that job, I was promoted to parts room manager. I held that job for about 5 years and then I moved out of the factory and into the sales office where I coordinated the farm equipment sales (at that time Waldon also produced farming equipment). Over the years I was the office sales manager, service manager, a general manager and then a managing partner.
Q: Tell me about that. When did you purchase the company?
M: My friend and partner Greg Wichert and I purchased the company in 2007.
Q: What made you decide this was something you wanted to do?
M: Greg and I both had worked at Waldon for a long time. Greg's father had even worked there before him. So we both had a lot of history with the company. We also saw the potential for the business to grow and really wanted the roots of the company to stay in the Fairview community.
Q: What are you going to miss most about Waldon?
M: The people. Wow, I have made so many good friends here over the years.
Q: What are you plans for retirement?
M: Well God told me it was time to quit back in October 2016. I've asked him many times what he wants me to do and I'm still waiting on an answer. I do have a cattle operation and 9 miles of fence, so I'm sure that will keep me busy for a while.
"I can't really think about Waldon without thinking about Merle. He has been a part of the Waldon community since almost the beginning of the company. He embodies all the best characteristics of Waldon – integrity, loyalty, and love. Merle did his job with excellence – but there was never any doubt that what makes him tick is a deep love for God expressed in genuine concern for and love of the people around him. We will miss you, Merle! Waldon won't be the same without you," says CEO Alan Vance.
Merle will be missed. Even his next-door neighbor Ray Harder and long-time co-worker and friend of 44 years has said "It's been a good ride. He helped many of us through troubled times. We will miss his compassion. Now we will just talk across the fence about family, fishing and world problems."
Best of luck to you Merle Patzkowsky